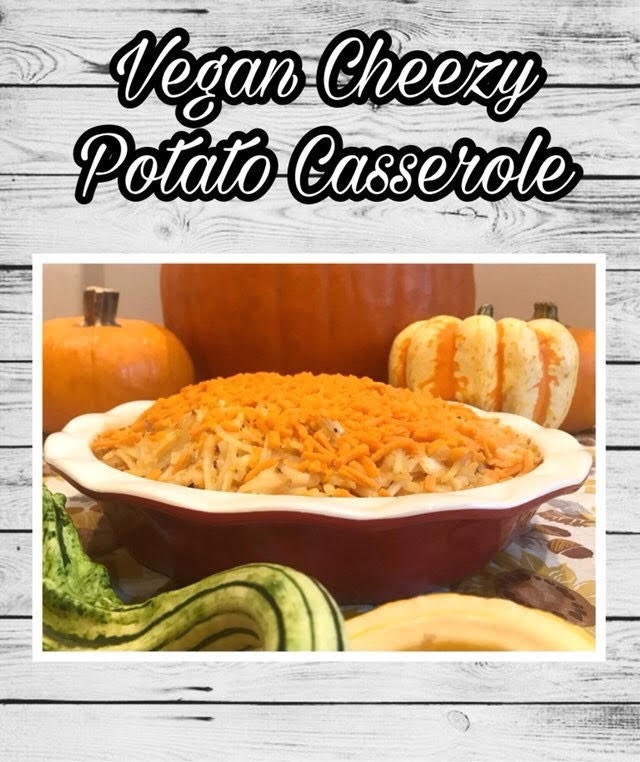 I can't believe that Thanksgiving is here! I love this time of year, and cooking for my friends and family. Out of all the dishes I create, I'm best known for this casserole. I get asked to bring this to events, parties, and gatherings all the time. It's a crowd pleaser - and 100% vegan. I love creating vegan recipes to share with everyone. Now... let's get to the recipe, shall we?
Vegan Cheezy Potato Casserole
Serves 10-12 
Ingrediants:
1lb bag frozen hasbrowns
1 bag non-dairy cheese (Follow Your Heart)
1 cup non-dairy sour cream (Tofutti)
1/2 cup non-dairy butter, melted (Earth Balance)
1/4 cup nutrional yeast
1 cup Vegetable Broth
1 packet dry soup mix (french onion or mushroom mix)
1 small onion 
1 glove garlic or 1/4 tsp garlic powder
2 tsp salt
1tsp pepper
Pre-heat your oven to 350 degrees farenheit. 
In a bowl combine: hashbrowns, finely chopped onions, finely chopped garlic or garlic powder, salt, pepper, nutrional yeast, and dry soup mix. Then add vegetable broth, melted butter, mix 3/4 of your bag of cheese, sour cream and stir evenly together.
Combine your hashbrown mixture into a medium to large casserole dish. Use your remaining 1/4 of cheese to sprinkle over the top of the casserole. 
Place in the oven and bake for 45 minutes. 
* I've found that it's easier to make this the night before. The flavors will soak in more, and the potatoes will be easier to bake. If you put the potatoes in, while still frozen, you might need to bake this dish for an hour. Set your timer for 45mintues, and keep checking every 10-15 minutes. 
Please, let me know if you tried this recipe. My family absolutely LOVES this - I hope your family does too! 
Happy Thanksgiving!